HF vapour phase etcher (Primaxx Monarch3 from SPTS)
Technical description:
Single process module tool for controlled HF vapor phase SiO2 etching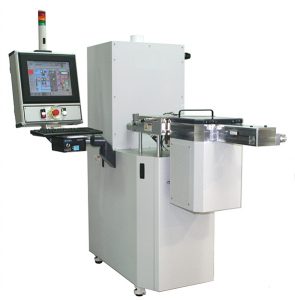 - reduced pressure, gas phase, anhydrous HF and Alcohol to etch sacrificial SiO2
- three wafers are loaded at once via a semi-Auto Wafer Loader (from sample to 8 inches wafer)
- Chamber wall temperature 45°C
Process capabilities:
The Primaxx Monarch 3 Module performs a vapor phase; selective, isotropic etch on sacrificial oxide to "release" membranes or other structures.
No liquids are used in contact with the MEMS devices; therefore "stiction" creating conditions are avoided.
The HF Vapor process provides a wide range of etch selectivity for differing oxides; thermal oxide has the lowest etch rate followed by CVD TEOS, Plasma TEOS and then BPSG.
Selectivity and etch rate are optimized by varying the temperature, pressure and HF/Alcohol ratio (etch rate in the range of a few nm/min to a few tens nm/min).
With the versatile control software, a variety of process recipes can be established for programmable variable etch conditions. Optimized etch rates are both oxide type and structure dependent.